1. Tell us a bit about yourself
I grew up in Blackpool, on the west coast of England, about 50 miles from Manchester. Rode to school every day because it was quicker than the bus and it's pretty flat. Met Mrs Turnip when I moved to Stevenage after Uni. Stevenage, just North of London, is town built after the war to accommodate the people from London's east end who were living in temporary accommodation after the war, it's full of bike paths. Mrs Turnip didn't own a car when I met her but she did own a bike, a Raleigh ladies bike that was very heavy from memory. Me, a single guy who drank too much found the bike paths safer than the main roads!.
We emigrated to Australia in 1988, because my boss at the time wouldn't give me 5 weeks break to go on a holiday to Australia, so we sold our house and bought 1 way tickets to Sydney.
Our two girls have grown up with cycling parents, and have been on cycling holidays in France, and South Australia. Though they have both traded their bicycles in for a car.
2. What got you into cycling?
My first memory of cycling was used to race around the pavements in our cul-de-sac we (there were some technical right angled corners with a brick wall deigned to rub the bark off the riders nearest to the wall). These corners favoured smaller riders with lower centre of gravity who could sneak around on the inside. (I'm the one on the left, My best friend Mike, and my brother Martin always the engineer is studying the pavement surface to try and seek unfair advantage)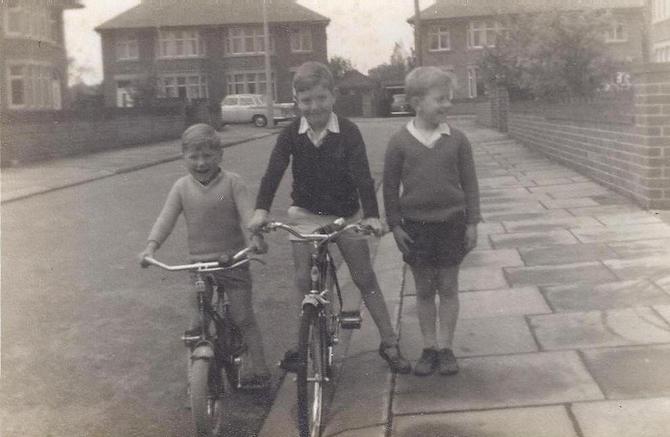 3. How did you come to join the Easy Riders?
Used to commute with Zlatko, along the hard shoulder if the M2 from Browns Water Hole, and then on the bike path over the Lane Cove Tunnel. When the RTA stole our M2 bike path to build "an extra car lane" Mrs Turnip remembered seeing an article in the North Shore Times about a commuter group who rode to the city from Turramurra. I loitered outside the petrol station on Pacific until I saw St. Nav sprint pass. Big mistake, I tried to catch his wheel only to be dropped before Telegraph Road. The next day, I rolled out of the petrol station as soon as saw him, and managed to hang on until Pymble hill, gravity took over and I managed to keep up until Gordon. The rest is history.
4. Tell us about your bikes.
My first bike was a hand me down from my older brother. As you can see from the earlier picture its even smaller than my current Merida!.
When I went to high school I upgraded to a BSA 20" ( my legs were still too short for a real racer even with 24″ wheels). Some say they still are!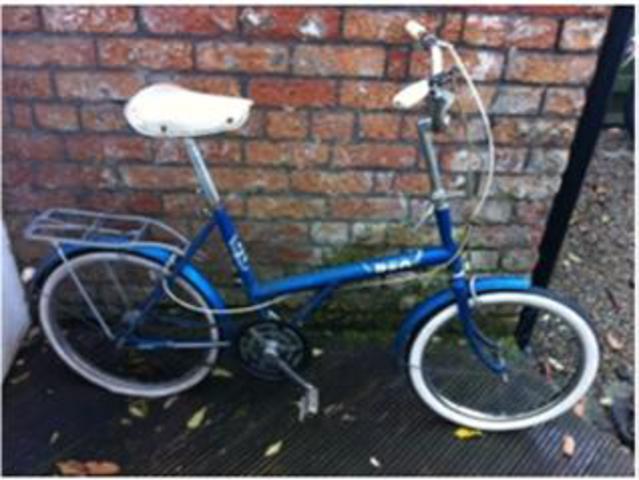 When I finished year 10, and passed my O-levels my parents bought me a Freddie Grubb with 10 gears ! (only lasted 4 weeks before it was stolen)
After that I borrowed my brother's bike whilst he was at Uni, not sure where he got it from but its Frame number as GPO12345 !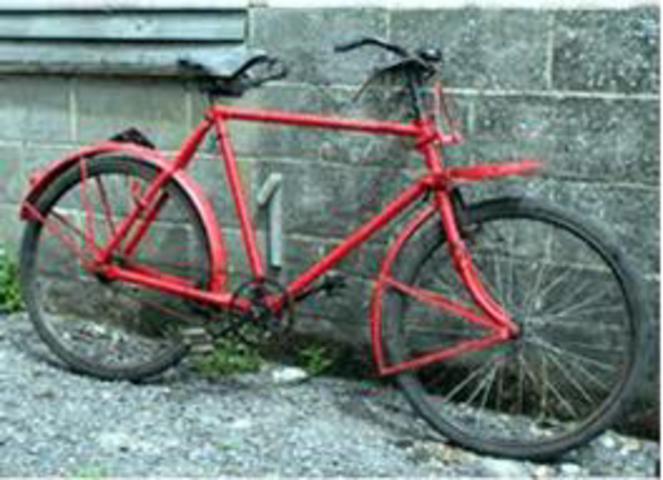 This dream machine saw me through University in Liverpool. Its frame was so heavy the local 8 year old lads weren't strong enough to ride it away even if they did manage to break the lock during lectures. Nine year olds didn't waste their time stealing two wheels, they had already graduated to anything with 4 wheels and an engine. I think my brother still has it his shed in Macclesfield, that's probably why he doesn't ride!
In the summer holidays I used the trusty post office bike to ride to work as a deckchair attendant on Blackpool Beach and sometimes gave a friend a lift home, with her sat on the handlebars. OK I was never that good looking!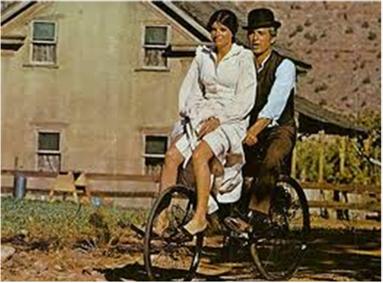 5. If you could ride anywhere in the world, where would it be?
Definitely France. We've had several great cycling holidays there, 10 days in Provence, a week in the Loire Valley with the teenage turnips. The French really understand cycling probably because the TDF reminds them every year how lucky they are to live and ride there. I'm a fan of the mountains, Mrs Turnip prefers the more gentle roads through the vineyards. It's a difficult balancing act keeping Mrs T happy, enjoying the food and wine after a leisurely and scenic ride, or take my beloved up the hills? My answer is do both! Thankfully Mrs Turnip is still talking to me after getting to the summit of the Col du Persaud, just in time to see the Cadel Evans and his BMC team-mates come over the top in last year's Tour. She has given me a leave pass for this year's Tour. She is holidaying in Holland this year.
6. Tell us a riding story.
June 2011.
Having signed up with a friend for a 16 day ride in Italy from Rome to Lake Como, we arrived in Rome a few days early to get our bike sorted and recover from jet lag. On the first day of the tour, I foolishly gave one of my water bottles to a fellow rider, as her only one had bounced out of her cage a few kilometres back down the road. As the mercury rose above 30 degrees I dropped off the back of the pack when my 750ml bottle of life giving liquid was exhausted. The next couple of hours were spent getting lost in the hills somewhere north of Rome. I discovered I'd missed the lunch stop when I got to the top of a 20km climb and looked down at the lake below where we were supposed to regroup.
A quick check of the map , I discovered that if I descended down the other side of the mountain, I would be back on the route sometime that afternoon. After a quick roadside sandwich at a truck stop, and with a full bidon, I descended quickly, to make up for lost time. Too quickly as I it turned out as I was now ahead of the peloton and as the Italian workforce raced home for their siesta, I fought through the traffic jam of a major town, and was finally spat out of the other side towards the village where our camp site was located and a well-earned rest. At the 110km maker I heard the familiar grumble of the rain gods, who were not happy that I ridden all day without getting wet, and shortly after the rain started descending with some force. Still riding on my own and with only a photocopy of a map to guide me to my tent, I took refuge in a petrol station. Unfortunately I didn't notice that the forecourt was cobbled and liberally covered in diesel. The crack from my broken elbow when it hit the ground still makes me feel sick when I think about it.
Getting the Lycra off that night was very tricky, as I couldn't bend my elbow. The next day I had a nice bruise forming around my right elbow. By lunch I had to admit to the tour medic Id crashed the previous day. He immediately drew a line around the bruise and allowed me to ride the afternoon as I could control the bike and the brakes.
When we arrived at camp the bruise had extended from my shoulder to my wrist, and so I was sent for an X-ray. Even though the radiologist could speak no English, and my Italian is limited to ordering beer, coffee and pizza, we looked at the X-ray together and I knew my holiday was over.
The next week was spent with my arm in plaster from my wrist to my armpit, travelling in the best sag wagon ever, a converted fire engine, through Tuscany before a Business class ticket back to OZ (Thank-you Westpac Travel Insurance).
7. Do you have any advice for the riders at the back of the ER peloton?
Always ride at a pace you comfortable with and at a speed you think is safe. For me its about how you get there and arriving safely, not arriving first. My 3 peaks finishing time of 12 hours 57 minutes last year, sums it up. [Editors note: the cut off was 13 hours] Don't try and ride to someone else's ability because you may not finish at all.
8. Lastly, tell us something we don't know about you.
I wrote the computer program which monitored for radioactive leaks at perimeter of the Sellafield which is a nuclear reprocessing site in Cumbria England. Perhaps that's why I now live on the other side of the world!
Turnip