1. Tell us a bit about yourself
I'm originally from Germany and came to Australia with Hänsel in late 2010. Of all the different places I've lived at I enjoy Sydney the most and I really hope we stay here happily ever after.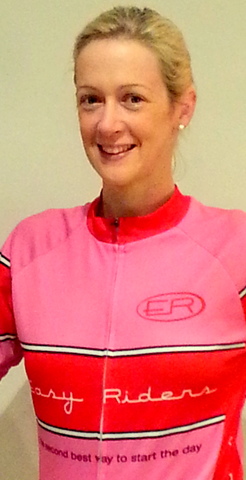 2. What got you into cycling?
I find this a strange question. Where I come from pretty much everybody cycles in one form or another. This could be a trip to the nearest pub and back for Frühschoppen (pre-lunch beer with friends; mostly, but not always restricted to Sundays) or a social ride on a beer-bike.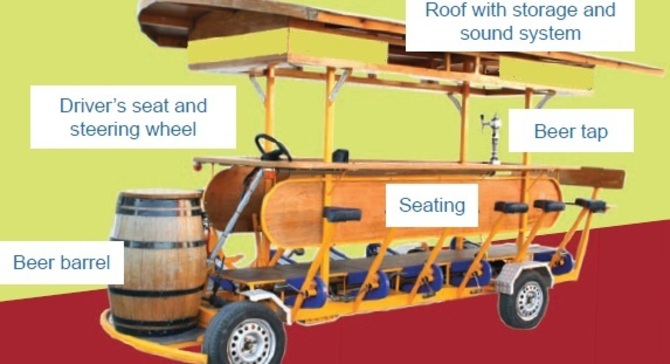 Also, growing up in the countryside with only one bus a day, I had to cycle to see friends or go anywhere.  And that was faster by bike. 
I've always enjoyed cycling at speed, competing with my Dad on family rides who could go down the hill fastest (very much to the bemusement of my mom as you can imagine). My first "serious" road bike was a pink Peugeot Aspin with a 105 groupset. It was the pride of my teenage cycling years. By that time I was competing in cross country skiing races and cycling was a way of building stamina during the summer.
Looking back the only time I didn't ride was for three years when we were living in London and I was too scared and the weather too poor for cycling.
3. How did you come to join the Easy Riders?
Hänsel and I had been riding to work for a while prior to joining the ER. We lived in Wollstonecraft at the time. Our micro-commute left at around 7:40 each morning when the ER had already had their first coffee at the B&T.
Moving to Chatswood meant we finally had a good reason to join the ER. So we got in touch with SatNav via the website and the rest is history.
4. Tell us about your bikes.
I have a few bikes back in Germany, but the only one that matters here is my beloved Canyon. It was love at first sight. Back in 2004 Canyon was one of the few manufacturers that made specific women's bikes. The difference in comfort to any of the other unisex bikes was immediately apparent. The triple chainring means I can climb up walls.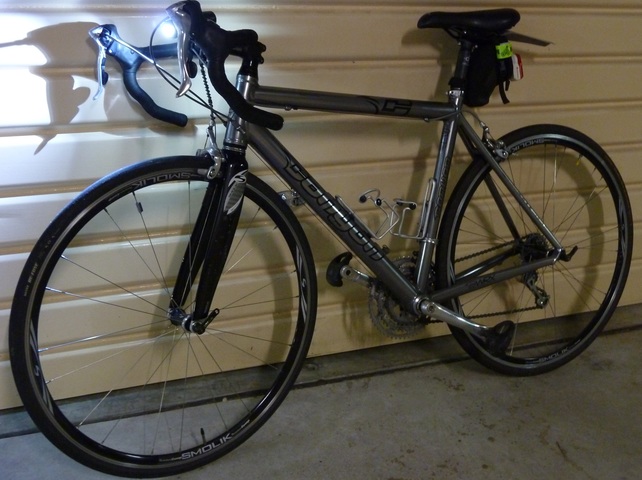 Apart from an old MTB the Canyon has been the one and only for the last nine years. The next bike I am considering is a cyclocross with hydraulic disc brakes for commuting on wet days, and (note that Hänsel suggested "or") a serious MTB.
5. If you could ride anywhere in the world, where would it be?
So many places! I'd love to do more tours and off-road riding. I've heard great things about desert-riding in Utah and Arizona.
6. Tell us a riding story.
The ride of total dehydration comes to mind. I only meant to go out for a quick spin but the legs felt good and, at 90 km onwards, still did. I had not taken any food and only one water bottle and soon started feeling thirsty. With no café or service station in sight I was getting desperate. I passed an orchard, but there was barely any fruit left on the trees apart from a few worm-eaten and sour cherries. I climbed over the barbed wire fence in my cycling shoes and ran to the tree as if it was the tree of life, hands reaching for the cherries. Boy, those worms cherries tasted good.
7. Do you have any advice for the riders at the back of the ER peloton?
It's a good place to be – I like hanging out at the back. Don't be shy to call out if the pace is too fast.
8. Lastly, tell us something we don't know about you.
I'm a volunteer guide at the Botanic Garden in Sydney and an absolute geek about anything plant-related.