1. Tell us a bit about yourself
I was born and raised in Ryde and Eastwood in Sydney and have lived on the North Shore most of the years since. I have two sons one of whom is a keen rider the other has to be gently coaxed onto his bike.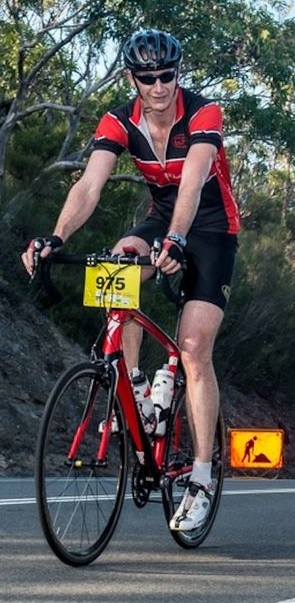 2. What got you into cycling?
I started cycling as a 12 year old on my Malvern Star road bike with 3 speed Sturmey Archer Hub gears. These were mostly great but just occasionally would go into neutral between 2nd and 3rd gear and I did go over the handlebars more than once when the resistance to my pedaling effort suddenly disappeared.
I stopped riding when I discovered girls and cars towards the end of my teenage years.
I eventually came back to cycling and did about 7 Sydney to Gong rides before the narrow constricted starts put me off. Since 2007 I have ridden 6 Around the Bay rides in Victoria along with a few other assorted events. Riding with the ERs has increased my riding considerably.
3. How did you come to join the Easy Riders?
I was on a training ride in LCNP one evening when coming around a corner there was a car completely on the wrong side of the road over double centre lines. After the ensuing head on collision I was a bit beaten up but no broken bones and 18 visits to the physiotherapist sorted out my whip-lashed neck. It was also the end of my 11 year old custom built Hillbrick bike.
It was at this point that my wife tactfully suggested I should ride with a group.
So I purchased the current Road Bike to replace the mangled one and started commuting again and I spied this large splendiferous group wearing the Egg & Tomato. On chatting with a non-ER rider I discovered the name of the brightly coloured ones and made contact with Saint Nav signing me up before I was any the wiser. Then as I was training for my first attempt at the three peaks I thought riding some Fluffers with Goaders would be a good idea. It was!! I suspect I would not have completed the ride in time were in not for all those early morning trips along Mona Vale road and the Northern Beaches.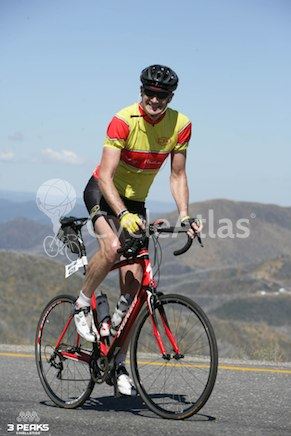 4. Tell us about your bikes.
I have owned quite a few bikes over the year many of which have been custom built for me.
The current roadie is a Specialized Roubaix which has a 400mm seat post and a long angled stem to accommodate my special(ized) requirements. Note it is the XXL and they do make one even bigger than this one.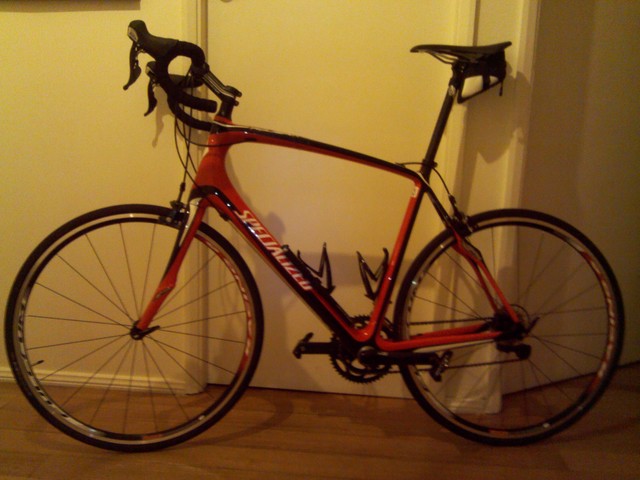 The MTB is a Scott 29er hardtail which occasionally comes out for the OTP or more often on weekends. TSS is helping with a project to get an old MTB converted to a wet weather commuter bike.
5. If you could ride anywhere in the world, where would it be?
In Aus I love the Victorian Rail trails as a great place to ride with my kids and would love to ride in NZ as I hear they have some excellent trails as well.
6. Tell us a riding story.
I once rode an MTB with three friends from Sandy Hollow to Lithgow on the Bi-centennial National trail. That about 250 km on mostly fire trails with full rear panniers and back packs. It was 5 days of adventure on the smell of an oil rag as we were poor uni students and most meals were rice or pasta and everyone watched eagerly to ensure that we all got exactly even portions.
It started out through deliverance type country near Widden Brook where the 4 of us clad in cycling shorts and Lycra felt very out of place and received a few strange looks from the few locals we did see although none of them seemed to own a Banjo. Another challenge was when we realised we were riding though a property and in the same unfenced paddock as a bull who started to take a lot of interest in us. Our pace picked up considerably as each was keen to prove that they were not the slowest of the four and we maintained that until we finally crossed a cattle grid and could relax.
At one point one of the riders who didn't take bike maintenance too seriously, had his quick release skewer fly apart, the front wheel come off, and his forks spear into the ground and bend. We were about 50 kms from help in rough mountain country so needed to sort it out. Eventually all the missing bits were recovered and our combined weight managed to straighten the forks enough to get the wheel on and continue the ride.
We climbed a pass called Baal Bone Gap pushing our bikes and it was so steep for while that forward progress required pushing the bike up the slope a little, clamping on the brakes and taking a step and then repeating. It was not possible to move yourself and the bike at the same time.
All in all a very memorable trip.
7. Do you have any advice for the riders at the back of the ER peloton?
There is no shame in being at the back, some days it just feels good to ride at a steady pace.
For new riders, just enjoy the ride and learn from those around you.
8. Lastly, tell us something we don't know about you.
In years gone by, pre-kids, I did a stint living in Cairns and working as an Adventure Tour Guide. I took tourists on overnight walks into the Wet Tropics Rainforest and climbing Mt Bartle Frere, QLDs highest mountain. No fires were allowed as it is a wet tropics reserve so dinner was prepared on small fuel stoves by the light of a roaring candle often in the rain. I am also very good at dealing with leeches as a result.
The area had lots of birds and wildlife including Ulysses Butterflies, Cassowaries, Victoria's Rifle-bird and Australia Largest snake the Amethystine Python. All of which I encountered on one or more trips.