1. Tell us a bit about yourself
Originally from Kota Kinabalu, Sabah, Malaysia. I came to Sydney in 1971 and three days later was driven to Bathurst to board at All Saints College. Talk about cultural shock, instead of playing table tennis and badminton, I had to play tennis, cricket and rugby. I met Mrs Wong on the tennis court at Campsie, so taking up tennis to impress the chicks was a pretty good move.
Although I'm currently the project director at Mission Australia Housing Victoria, overseeing the organisation's property portfolio, I've been a uni dropout, banquet waiter, chainman, council worker, surveyor, and engineer.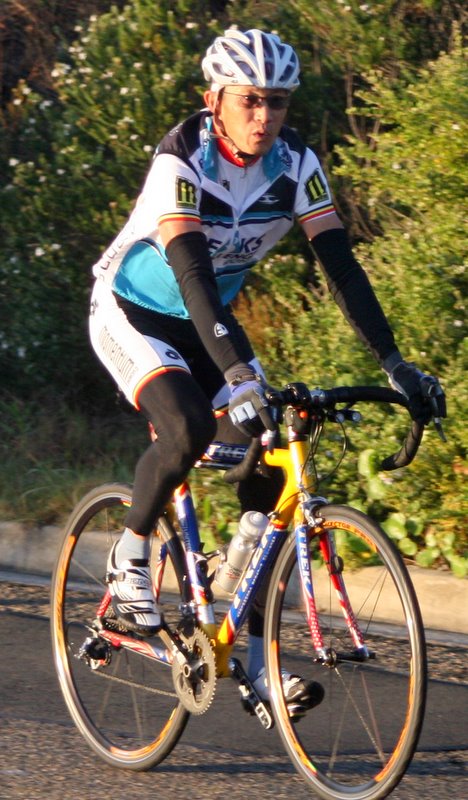 2. What got you into cycling?
I got back into cycling in 2001 when my doctor gave me two options. Lower my cholesterol by changing my work life balance by becoming healthier or take medication for life. So, I started jogging for a couple of months and Mrs Wong suggested I try cycling as she reckons pavement pounding is bad for my joints.
I got myself a hybrid bike that I still use as a commuter. I rediscovered my passion for cycling and my cholesterol dropped to between 3.9 to 4.5, As my cycling mileage increases, my weight dropped from 85 kg to 64 kg. The only down side is that Mrs Wong has banned me from visiting bike shops. Thank goodness for online shopping.
3. How did you come to join the Easy Riders?
I got to know Jill, Finchi and Anthony on my commute into the city via the Epping Road cycle path and we would meet for coffee at the Naked Duck Cafe at Darling Quarters opposite the Commonwealth Bank Building. We would also bump into Lobbster as well. Great coffee and bacon and egg rolls. Then we noticed that Finchi had gone missing for a couple of months. Eventually, we found out that he had gone over to the dark side joining the ERs.
One day on my commute to work, the ER peloton came by and I chatted to Lunchie and discovered that he lived near me. Coming off the SHB onto the Kent Street cycleway, I've noticed the gaggle of ERs in their egg and tomato gear at the Cava (formerly B&T) and I used to think what a bunch of wankers! Finchi tried to convince me that ERs are a lovely bunch of people who commutes.
Joining ERs was easy. But switching my allegiance from the Naked Duck to B&T was very difficult because I had to give up great coffee and food.
4. Tell us about your bikes.
Started with an alloy Specialized Sirrus Hybrid, 16 speed Shimano Tiagra triple chainring road bike. This bike has been modified to provide the same fit as my other road bikes. So, off goes the straight bar, replaced by a drop bar with Sora shifters for the triple.
Became the proud owner of a Lance Armstrong's 2000 (full carbon OCLV handmade in USA) limited edition Trek in 2003 when Renegade Cycles reduced the price by 50% after it had been on display in their showroom for a couple of years. This wonderful bike has served me well for 11 years. The 9 speed Dura-ace drivetrain has been replaced by 10 speed compact Sram Red for my successful completion of the inaugural 3 Peaks Challenge Ride.
The most recent addition to my bike collection is a custom built Seven, a titanium framed bike equipped with some of the latest components. 11 speed compact Shimano Dura-ace Di2, rear derailleur is the Ultegra GS long cage model to accommodate the 11-32 cassette. The ride, handling and feel of this bike is simply sensational.
5. If you could ride anywhere in the world, where would it be?
I have a bucket list of places around the world that I would like to ride. Having ticked off Le Tour two years ago, the next destination would be either Italy or Spain.
6. Tell us a riding story.
With 5 years riding experience under my belt, I signed up for the Alpine Classic 200 in 2006 on my yellow Trek then equipped with standard 52-39 cranks and 12 to 27 cassette. We arrived in Bright the day before the big ride and thought it was a great idea to loosen the legs by riding the rail trail. I still remember vividly after an hour or so in the saddle that my butt was feeling a bit numb. I simply shrugged it off and told myself mentally to HTFU.
Bright and early the next day we breakfast and rolled up to the start line after collecting our brevet cards. The route goes from Bright to Tawonga Gap to Falls Creek than back to Bright for lunch before heading out to Mt Buffalo and back to Bright. On the return to Bright from Falls, my butt was so sore that I felt like giving the Mt Buffalo stage a miss. Again that voice inside my head reminded me to HTFU so I had no choice but to put up with the pain to finish the ride.
It took 3 days for my butt to regain any sort of feeling. I made an appointment with Steve Hogg, handed over $500 and it was the best value for money decision I've made. It took 7 months trying out many different saddles and positions before that illusive perfect fit was achieved. Other things that need to be corrected included, one leg is 5 mm shorter than the other, spine and hip was out of alignment.
Going by the number of emails from ERs after their 3 Peaks triumph, outlining their custom fitting experiences and love hate relationship with their bikes, I'm sure they'll relate to my ride story.
7. Do you have any advice for the riders at the back of the ER peloton?
Due to the elastic band effect, the back of the ER peloton is not the best place to be particularly if you are not one of the fitter riders or on sweeping duty. Due to the unpredictability out the back, good communication via signalling or calling is essential for your own safety as well as the safety of others.
8. Lastly, tell us something we don't know about you.
I used to be a pretty handy ballroom dancer, but don't all come rushing to me for lessons as I haven't danced for quite awhile. My nickname was Twinkle Toes!