1. Tell us a bit about yourself



I was born in the UK, got itchy feet after a 3 month caving trip to China, and emigrated here aged 28. I work in engineering/technical areas.  I met and married an adventurous Aussie lass, have 2 teenage boys, now 15 and 17.  I mostly like sports beginning with C; canoeing, canyoning, cross-country-skiing, cycling, surfing…
[editor's note: Ian got the name Blue Stratos because we'd just named Old Spice (for chatting up elderly ladies on the Artamon bike path) and Ian looked vaguely similar and had a blue bike!]
2. What got you into cycling?
My parents have never owned a car, so cycling to get around was the normal thing to do in our family, despite our living in a hilly town.  My earliest memories feature being on the child seat on my dad's bike – daily over the hump back bridge to pre-school, age 4.
3. How did you come to join the Easy Riders?
I kept getting overtaken by ER riders. I usually ride solo, but the social scene of the group proved irresistible, though I understand little, having no cipher for the coded conversation.
4. Tell us about your bikes.
Not so long ago I owned various child carrying bicycle contraptions, including a double tag-along, and a triplet, but the kids grew, so I sold them – the bikes, that is.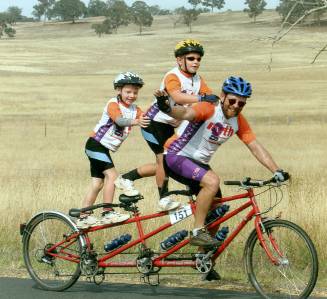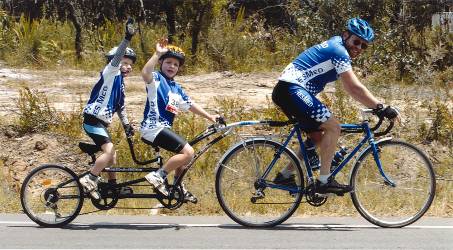 I've a Giant Reign MTB which is great, but the only bike that really matters to me is my custom road Argos tourer, This was built for me in Bristol in 1982 by the fabled Arthur Needham, with the earnings from my first job out of University.  With silver soldered Reynolds 531DB steel tubing, to my eyes it is a beast of beauty, with Prugnat cut-out long point lugs, and Cinelli crown.  It has had 3 resprays in various shades of blue, 3 generations of components, and we have probably gone well over 100,000 km together… Are you sure you want to know this…?
5. If you could ride anywhere in the world, where would it be?
My tour would start in France, go via Eastern Europe, and finish in Turkey. Ideally a route with hills, views of snow capped mountains, raging rivers, frequent small quaint villages, quiet roads, good local food, and interesting locals who don't shoot at me.
6. Tell us a riding story.
I once had my front bike wheel stolen, and reported this to the police.  "Can you describe it?" asked the constable. "Certainly, yes", I replied.
"My front wheel was built in Bristol by Evans Cycles in 1982, using a polished silver Campagnolo Record 36 hole high flange hub, with quick release skewer.  It's Weinmann Concave 27″ silver alloy rim is laced 3 cross with 14/15 gauge double butted stainless Sapim spokes, with DT brass nipples and Velox cotton rim tape. It has a black Continental top touring tyre, 27 by 1 and a quarter, fairly new, only light wear. The Michelin inner tube has a Presta valve with black cap, and has one patch, about a third of the way round from the valve. The wheel runs true but has a small ding 6 inches past the valve on the release lever side. The hub is clean but the rim is a bit dirty".
The constable looked up at me, with a surprised expression. I imagined smoke rising from his pen. "That's the first time I've had that, they usually say 'Round'."
7. Do you have any advice for the riders at the back of the ER peloton?
I've been there, and still am on some days. Just come along, and ride at a pace you can sustain, and the group will adjust for you. The riders just in front of you who are working close to their limits, but trying not to show it, will be delighted. The regular front runners who are cruising anyway get to chat more in their special code. Soon you'll be answering one of these questionnaires.
8. Lastly, tell us something we don't know about you.
I design and build mean Trebuchet's for throwing rubber chickens huge distances, so Scouts can get hit in the face by them.