Congrats to the Founding Fathers of this great group.
To celebrate the SA Chapter held a mini Cogal last evening. The story goes something like this….:
Nick aka Gaynor arrived in our fair state (founded by free settlers, not convicts…)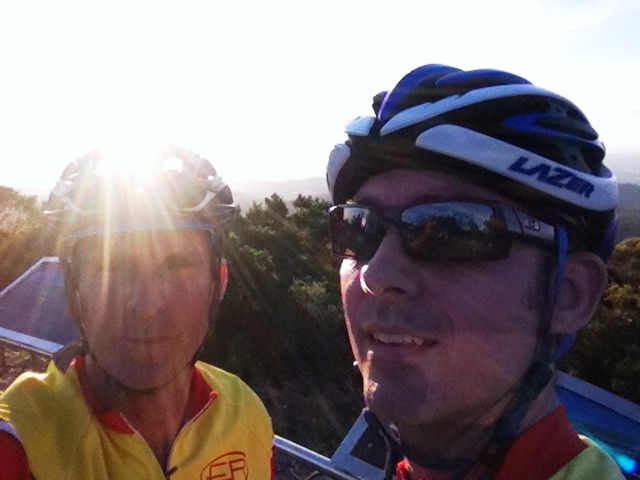 I collected him from his hotel – no less than the Hilton mind you, home of the TDU. We tackled the frenzy of Adelaide's peak hour – two sets of traffic lights as descibed by Gaynor. Ascending the mighty Lofty ranges, Gaynor had that look of anticipation mixed with fear. Some 20 minutes later we are in the man cave setting him up on the super Colnago EPS. It nearly died of fright as I tried to affix mountain bike pedals to such a thoroughbred steed.
Gaynor had mentioned SatNav and spreadsheets a number of times in the car, and then proceeded to take photos of my hidden man cave, within the man cave….the jig was up. I put two and two together. Gaynor might be posing as a marketing/sales/strategy guy, but he was indeed a forensic accountant. SatNav had sent him over to follow up unpaid ER affiliation fees and check out the books.
I gave nothing away that I knew his game, but plotted on what part of the hill he would meet an "unfortunate end" once out riding. We were both in the Egg & Tomato so even late into dusk we had no need for lights. With my evil plan in place I chose not to set Strava going – I wanted no record of this ride…
Once fitted we mounted and wandered our way through Piccadilly Valley and beyond. Down to Aldgate, past the resident Rhino (it's true???) back up the valley and a quick regroup at the front of the Stirling Hotel before the beast of Mt Lofty beckoned. Gaynor was starting to flag and my time to strike was nigh. Once at the summit we took a few quick happy snaps to show Le Bullet that it really was an easy climb.
The descent now upon us, Gaynor must have seen the evil glint in my eye and kept so far back that attempts to foil his investigation proved unattainable. Besides, to do so would have been troublesome with new photographic evidence now recorded. Besides – I couldn't hurt the Colnago.
Home at last after spotting a few Koalas we imbibed in some liquid refreshments to rehydrate. Unfortunately this turned to a few more, so by the time we had showered and changed and arrived back at the Stirling Pub for dinner the kitchen was closed. So much for local hospitality, we chose to continue with the re hydration approach with some Twisties supplement – dinner of champions.
Gaynor now considering betraying SatNav and moving to the SA Chapter. The lure of inaugural Secretary proving too much.
He did however mumble something about needed to purge himself of the SA diet or Jenny would have kittens. He then followed he need a Chippo Roman (sandal) massage to recover, so Sydney may ultimately win…
Good to fly the flag with a mini ER peloton over here.
Beebs