1. Tell us a bit about yourself
Born and bred in Sydney too many years ago to remember, I settled in the sunny north shore after moving around Australia for University and work, I have 2 sensational teenage daughters, a caffeine addiction and should be a shareholder with Vic in the bitter and twisted!
2.  What got you into cycling?
I started riding as a kid. My old man was an Oncologist who also had a small old fashioned private practice doing home visits and having his patients come to our home. One of his patients, Jim, was a very keen cyclist having taken it up as a mid-life cancer survivor. At the time I had just got my first bike (at the age of 10 which I will come to later). Jim picked up the enthusiasm with which I attempted to throw my little legs over an ill-fitting 23" frame. He took me under his wing, got me riding a bit of distance, had a bike built for me by Jim Bundy (I still have the frame), introduced me into Northern Suburbs Amateur Cycling Cub and the rest is history.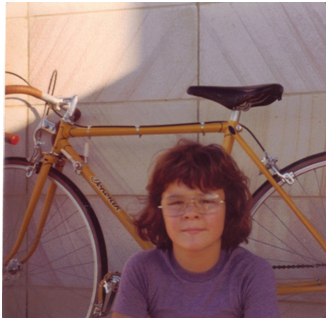 Well it was history. A driver's licence, University, job, mortgage and all those things that get in the way of cycling saw the bike relegated to the back of the garage where it stayed for 20 years. At the age of 40 odd, a hobbit size fella weighing in at 77kg was having trouble keeping up with his two athletic young daughters so things had to change. Thinking I was too precious to ride a bike on the road, I went out and bought myself a cheap mountain bike and began the long grind back to fitness. For the first few rides it was me that broke; then slowly but surely it was the bike that came out second best. Every ride resulted in hours of repair work to the point where I started riding a MTB on the road. That was the point where I realised my destiny and returned to road riding. A new carbon road bike became the newest member of the family, the same LeMond I ride today.
3. How did you come to join the Easy Riders?
Living in the Hobbit shire West of the Pacific Highway, I started commuting into the city through Brown's Waterhole and Lane Cove National Park – which is still one of my favourite commutes.
With my bike tucked neatly beside my desk at work, I heard the too familiar sound of tick tick tick and saw another cyclist sneakily bringing their bike onto the floor. This unusual fella not only named his bike, he also called it a cappuccino pursuit vehicle. Yeah you guessed it – BUCKY was sitting at the other end of the floor and as cyclists do we introduced ourselves and realised that we shared a love of cycling, place of work and a postcode.
Bucky told me about this group he commutes with from Gordon most mornings and enthusiastically introduced me onto the ER email list. My productivity has never been the same – but the richness of friendships and support (on and off the bike) has never looked back. I became an occasional rider, then semi-regular and although not a 'Nav-man there aren't too many days when I can't be seen sailing along the OTP.
4. Tell us about your bikes.
My commuter is a Gary Fisher Super Calibre 26" dual suspension mountain bike with fully knobby tyres. Why would anyone commute on anything else? Its ride position for the road is – inefficient at best. Everyone rolls past me downhill when I am madly spinning my biggest gear. You can hear the tyres coming a mile away – everyone knows who's behind them. 5 days commuting on the MTB and I'm stuffed for the week. Occasionally it even gets ridden off road.
My roadie is a LeMond Versailles that has been my trusty companion over tens of thousands of kilometres. Pina envy has tempted me a few time to upgrade, so far I've stayed faithful to the old girl that has been through a life changing transformation with me  – so we will march on for many more years to come.
Before taking my 20 year break from cycling I had matching road and track bikes. They hung at the back of a garage unloved for many years. TSS joyously eyed them off and a project was set in motion. Beautifully restored they are now squeezed into a garage full of big boy's toys.  They are a thing of beauty.
[Editors note: we need pictures here PD]
5. If you could ride anywhere in the world, where would it be?
Being a Peloton Sports rider, after each ride I attach myself to Veronika's intravenous espresso machine in Bar Stelvio and look longingly at the picture of Stelvio Pass. One day I keep saying!!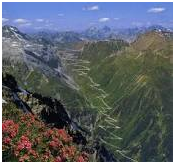 6. Tell us a riding story.
Being the son of a Doctor who had spent much of his early medical career dealing with motorcycle and cyclist injuries, I was not allowed to have a bicycle. With much persistence I wore him down and at the age of 10 I got my first bike. There were many conditions that went with it and one of those was I couldn't ride on the road. How he believed that I use to race a push bike competitively at state level without riding on the road is still a mystery. A parental blind eye I don't doubt.
The ER older set will remember the train strikes of the 1980's that brought Sydney traffic to a standstill. Unbeknown to my father I use to ride to school in the city from Hunter's Hill. My father thought I was catching the ferry with my bike. Train strike or not, being an indestructible teenager I set off to school, riding between the lanes of traffic over the Gladesville Bridge and straight past a television news crew. I didn't think anything more of it. That night, about to sit down to family dinner the ABC news came on. My father would always turn the television off as he had firm views on meal time etiquette. Because of the train strikes he unfortunately decided he would watch the first few minutes of the news and there in full glory at the very start of the news was me lane splitting through the traffic. I think it was about a month before I was allowed to even look at the bike again.
7. Do you have any advice for the riders at the back of the ER peloton?
Enjoy the ride and don't worry whether you're at the front or the back.
8. Lastly, tell us something we don't know about you.
You mean other than having hairy feet and living underground? To add to my father's woes of riding a push bike, I also ride a motorcycle. It's not just a little one, it weighs more than three times my weight and puts an ear to ear grin on your face when you ride it with in the gusto the engineers designed it with. Alas, hours on the pushy meant it's now been relegated to the back of the garage.