Who: Drastic, WBA, Admin, B1/c, VD, SatNav, Finchy, Schleck, Mike, Dragon and Magoo
Where: Pattinsons > Forest Way > Allambie Rd > Manly > North Head > Manly (Breakfast) > Reverse Fluffer > Church Point > Akuna > Pattinsons > Home
After 130kms of the Ettalong Gettalong yesterday, I spent the night resting and stretching in preparation for the ER Easter Ride this morning. In true Magoo Easter Weekend form, there were again some "issues" with the start time. Got up at 5 to stretch, have some food, triple check tyre pressure (yep Comet, I have a floor pump), check tyre pressure again and get to the meeting point 20 mins early. Turns out the calendar event was listed for 6 (not 6:30 as per emails) and I was actually 10 mins late for my own ride. SKILLS! We quickly sent a text to Chris (B1) who also working for 0630, agreeing that he would meet us at Manly.
We set out along Mona Vale Rd, shepherding Dragon who was having some light issues. Now, I don't like to be predictable, so the theme of today's ride was very ad-hoc in terms of navigation. Burke and Wills didn't know much about where they were going, but they had fun along the way (well until they died I guess). We turned down Forest Way, got a little bit flogged by Drastic and Mike (must have been hungry) and FLEW down Allambie and into Manly.
Almost had a Magoo moment at a crossing – Finchy stopped for a pedestrian that I didn't see. Having been very close to his wheel, I was presented with an excellent opportunity to practice my ice skating routine, much to the appreciation of Schleck, who might I add, was wearing a superb jersey today. Top marks from self-appointed CFO (Chief Fashion Officer) to him, as well as Finchy (sleek in black) and for the high occurrence of Egg and Tomato.
On the subject of fashion, Chris, was that, or was that not, the same jersey and knicks as yesterday? You didn't seem to smell so either you didn't need to sweat yesterday (possible) or you managed to wash yesterday arvo (while Goaders was sleeping) (probable). A hot lap of North Head was completed, with the group somehow splitting into 3. Some stuck to the road, some went on the path to the lookout and I guess Drastic and others hid in the bushes, because God knows how we missed them? Anyway, on to Manly.
Breakfast. After giving the "Scruffy Little Mutt" cafe a miss (we determined it to be too posh), we ended up at Bluewater Cafe. After the Barista had his glass of milk (??), we ordered some coffees and Admin ordered his "bacon and egg thing". Not wanting to be too far from our steeds, we moved outside and started to move some tables around until Satan's Blonde Step Daughter came and told us we couldn't do that. We also couldn't touch the sign, pay separately and assumingly, couldn't go to the bathroom without asking her permission. Lucky some of the boys managed to charm the nice British girl, and given we are still alive, it seems they didn't poison our coffee after all. (Hands up straight if you want an egg and bacon roll!)
So off we set again, trying to follow the reverse flutter (mostly we did OK!). Finchy started stressing as we ran into an RBT – lucky they let him through without doing the drugs test. But not to worry, he gave a Urine Sample to some bushes just off Pittwater Rd at Narrabeen, while still managing to remain on his bike. This man is Impressive!!
Up Church Point we went, with the likes of Schleck, Finchy and Co hammering forward. Many added Akuna Bay to the ride. I still don't know why I was so quick to say yes to that idea, or why I thought it was a great idea to attack Admin and WBA half way up. It left a feeling of pins and needles where my legs were meant to be. But onwards we rode, like the legends we are, to St Ives cycling heartland. More coffees and some hot cross buns ordered at the regroup point (Pattinsons), as well as a chance to meet Finchy's youngster (very cute). From this point we went our own way, with Admin and I (Team Princes St) riding down to the gates at Bobbin Head (amongst a few other detours) to get our 100 km for the morning.
Overall a fantastic ride with a fantastic group, apologies for the start time incident again.
If you want to buy me a watch, there is a Cartier one I have had my eye on!
Magoo
Dawn at North Head with the sun appearing out of Van Diemen's ear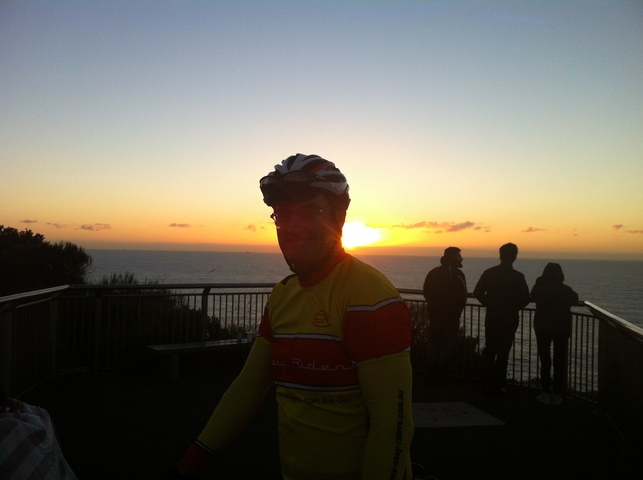 The view towards the city which Sat Nav would have seen if he'd bothered to leave the main road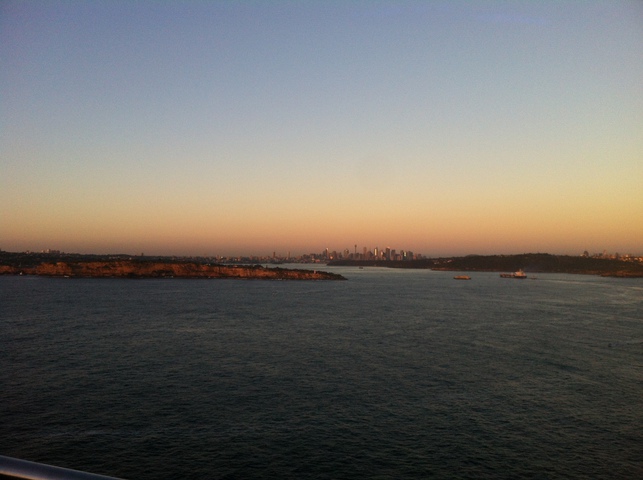 Drastic Hiding in the bushes