25-30 on the pedals at Gordon this morning, with nary a wet weather jacket on show. Talk was of anticipation of riding in daylight again next week when the clocks go back, albeit with the trade-off that the 6pm return journey will then be in darkness for the next 5 months. An incident free journey to Chatswood complete with text book re-group at Roseville and the usual suspects collected on the way, had most of us feeling that this would be a "vanilla" commute to the city. Alas a quick look skywards told another story, with deeply ominous grey clouds gathered ahead.
A few spots of rain on Archer had a number of us pull over to retrieve wet weather paraphernalia from backpacks, to the background call of "it's just a light shower" from someone more in touch with themselves than the weather forecast. And then the skies opened! What a downpour- I can't remember a wetter inbound commute for years, complete with quickly blocked drains and water 6-8 inches deep (that new drain and gutter on Observatory Hill? Fail.) Stopping to don the wet weather gear turned out to be an exercise in futility, as nothing could stay dry in this deluge but it rained so hard that it was actually quite exhilarating, with a number of calls of woohooo (ok I did it at the lights at Crows Nest, but most of you were thinking it I'm sure)!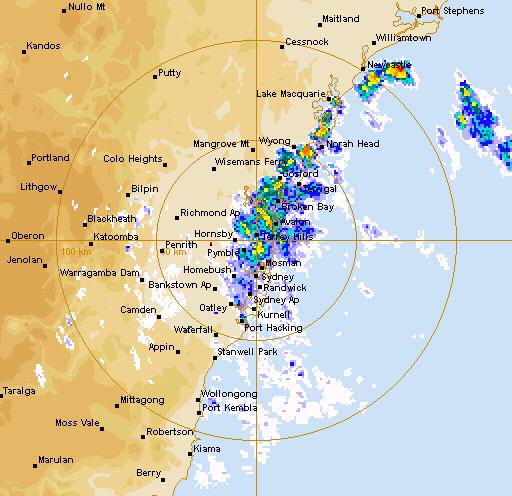 Aaaaahhhhhhhhh! (1)The collective sound as the first slurp of hot coffee hit the back of the throat at the B&T, followed by self-congratulatory comments about how hard we really were. "If I wasn't an accountant I could have been in the SAS you know" No, you couldn't. Not many (none) stayed for seconds as far as I could see, for as hard as we may well be, most wanted to rush off for a hot shower.
Aaaaahhhhhh! (2) The collective sound of 25-30 ER's hitting the hot showers just after 8am, and that tingle on the skin that confirms a significant change in body temperature.
It was at this point that I looked at my backpack hanging in the shower room and genuinely marvelled at how dry it had remained with only the $3.50 ER backpack cover from Guangzouw to protect it in such a downpour. Unfortunately looks can be deceiving and upon retrieving my underwear from said backpack to get dressed found them to be soaked at the bottom of the pack! Rain cover good for the wet stuff coming downwards, not so good for the wet stuff coming upwards off the back wheel.
Have a dry day all, see all of you HMAWOTN on the return tonight.
DT