1. Tell us a bit about yourself
A Sydney boy relocated to the central coast, happily married with three kids, owns the only dog that is not a Staffy on the Central Coast, owns an old and 'hand me down' cat (thank you sister in law!) and two fish that just won't die (the ones we wanted only lasted 6 months).  I love to surf, although less so now I've been bitten by the bike bug and generally spend my time running the kids around to music lessons and soccer.  I love making pizza, cooking in general, camping, and the occasional yoga session.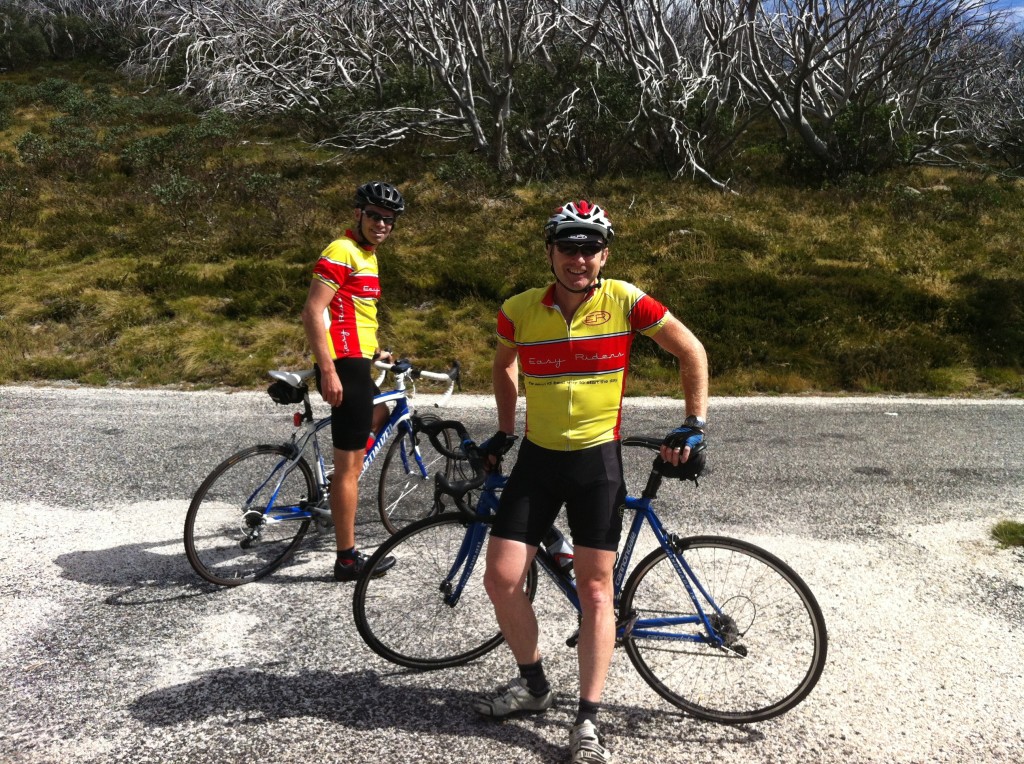 2. What got you into cycling?
Have always been into cycling as a mode of transport, although as a young rider was bought an orange Malvern Star road bike, rather than a BMX, like all my friends.  Recently, at the local BMX track, I took it upon myself to demonstrate for the benefit of the kids, the best method to attack the bumps at speed.  It was all going so well until I accumulated a little too much speed, lost it and hit the dirt pretty hard.  Nothing seriously injured other than a bit of blood and the kids laughing uncontrollably.
3. How did you come to join the Easy Riders?
Other than having a hankering to wear lycra amongst like minded men, I was looking to extend my commute from the Central Coast to avoid work, and noticed the ER website.  I just turned up at Gordon and was swept up with the momentum.  Thanks Turnip and others for making me feel welcome.
4. Tell us about your bikes.  
Cannondale CAAD 9, which has been recently refurbished.  Thanks Brownie I love it and definitely not too many CAAD9 s with Campy group sets getting around The Central Coast, or Sydney for that matter.   Recently the proud owner of a 1990s Peter Bundy steel framed road bike, thanks also Brownie.
5. If you could ride anywhere in the world, where would it be?
Definitely Italy or France, but am happy to be convinced otherwise, and would actually settle with anywhere that gets me out of the office.
6. Tell us a riding story.
Thanks to the Three Peaks ride, I now have a good riding story.  There are now quite a few ride reports making their rounds, however, my story is somewhat unique.  The lead up to, and the morning of the ride was fantastic and much the same as all the ER's, however, I had barely crossed the start line when …….gently rolling forward (one foot unclipped), with WBA positioned in the start line chaos just behind me, I heard a crash although don't recall feeling anything undue.  The peloton stalled again and WBA pointed out that I was lucky, the guy who fell tried to grab my shoulder on the way down, but missed.  I thought all great, no harm done, however, it soon became apparent that something fairly dramatic was wrong with the rear end of my bike.  WBA and I had agreed to ride together, so as he passed, we arranged to meet at the bottom of Falls Creek at the round about.  Did you really wait 4.5 minutes, 5 minutes I think would have been acceptable!  But seriously, not much WBA could do with the whole peloton flying past him, 200km left to ride and lots mountains to get over.  Back on the side of the road, I was at a complete loss.  Where was the help?
I managed to attract the attention of a ride official, who said to bring my bike up the stairs, behind the buildings, and into to the bike registration area (where we had the ride briefing the previous evening).  It was strangely disconcerting to be out of sight of the race start and to be around people who were at Fall Creek just to enjoy a day in the mountains etc.  A mechanic took one look at the wheel and said …."maate, maaate that wheel is hitting both sides of the brake callipers, I reckon the rim has been bent, you got another wheel"  I said no, and thought OMG I'm having a Satnav moment.  "If you had a Shimano wheel, I could have put something together for you, but a Campy wheel…?!"  The mechanic said that he would not be able to spend the time to attempt to true the wheel.
Panic starting to take a grip, heart rate and blood pressure up, I asked them to mind my bike, tore off my shoes, and bolted up the side of the mountain to our apartment building and to my only hope, that Collette, whom I thought was still around, knew where a spare wheel was [note for next year, could we get accommodation a little closer to the start line!].  Unfortunately no spare wheel.  Collette's bike had Campy wheels, although she was planning to ride the other side of Falls and around the lake.  To my eternal thanks, Collette made the ultimate selfless act and offered me the use of her rear wheel.  Wheel in hand, I ran all the way back down to where my bike was, only to find that the mechanics had trued my wheel a little.  The mechanic said I should take it easy around corners (bit hard when hurtling down Falls Creek and Mount Buffalo), but at least I could ride, although I was not filled with confidence in the road worthiness of my wheel.  I asked the mechanics to return the Campy wheel to Collette, and off I charged.  I didn't have Collette's mobile number and gave pretty sketchy directions to the mechanics as to how to find her, however a little way along the ride, I found the mechanics, who told me they found her and put the wheel back on……phew!).  Now, a small aside, should anyone find themselves in a similar predicament at the start of a ride, and you are lucky enough to be able to continue…make sure you actually cross the start line….I spent a good few kilometres wondering if I had done so, although as it happened, the accident happened after the start line.
I must have been 25-30 minutes behind the last rider ie about in 1,499th place and the good news was that I had the road to myself, but with adrenaline pumping, care was required to avoid loosing it on a corner. I had expected to see the last of the riders prior to the end of the first 32km descent, alas nothing but an empty road.  I did, however, catch up to a rider about ¾ the way down who said she was not in the race, but knew the mountain well and on her rear wheel we flew down the remainder of the descent, at a faster pace than I would have otherwise done.
I made the first round about at Mount Beauty, however still no sign of the peloton, the race officials seem to be closing their marshalling stations….more panic….ride faster, but not too fast, 200km left to ride…..don't blow up.  Still panicked, but on the other hand, glad to be on the road and moving.  Is it possible to finish the ride this far back, or will I have to accept riding as far as I can prior to being pulled off the road.
I started to run into the first stragglers on their way up Tawonga Gap, but after the initial relief of seeing these riders, any riders really, I realised that these guys were never going to make the ride within the 13 hour cut off.  I think don't panic, keep steady pace up hill, keep passing these riders.
At the top of Towonga Gap, I passed 20-30 riders who had stopped at the drink station, and at that point I really started to feel a lot better…'Ivan The Terrigal' is back in the race!
Sometime after the descent from Tawonga, I caught the wheel of a far stronger rider, and held onto it for dear life, and made good time to the drink station prior to Mt Buffalo, albeit 'wheel sucking' (appropriate I think, but will leave that to others to make a ruling).  To make up the time was pretty good however I had spent a little more energy than I would have liked.  I took my time up Buffallo which I found a long and tough climb, however really enjoyed seeing the ER's speed down the hill.
At the top of Buffalo, I took my bike to a mechanic for a check,  a European guy, who had my rear wheel almost trued in 3 minutes flat.  It would have been fantastic if the guys back at Falls had spent a little time on the wheel, prior to dismissing it!
I rode into the lunch stop and saw a heap of ERs getting ready to depart….I filled my water bottles, grabbed some food, sorted out my drop off bags, and set off with them, happy as anything.  It was an amazing feeling to be with a group that I knew would look after me (read…more wheel sucking!), and to have company for what I suspected would be a long valley floor, and possibly dreaded UNDULATIONS (refer to Thredbo training camp).  The valley floor was hard, hot, long etc etc, but I had no doubt that I would make it…I had come so far….overcome panic and prevailed over a horrible start to a 230km ride.
I should also thank B1/Michael for mid ride, repairing my 'broken' shifter, apparently using all his mechanical skills…pushing the shifter button a little harder!  Possibly, fatigue had set in a little there.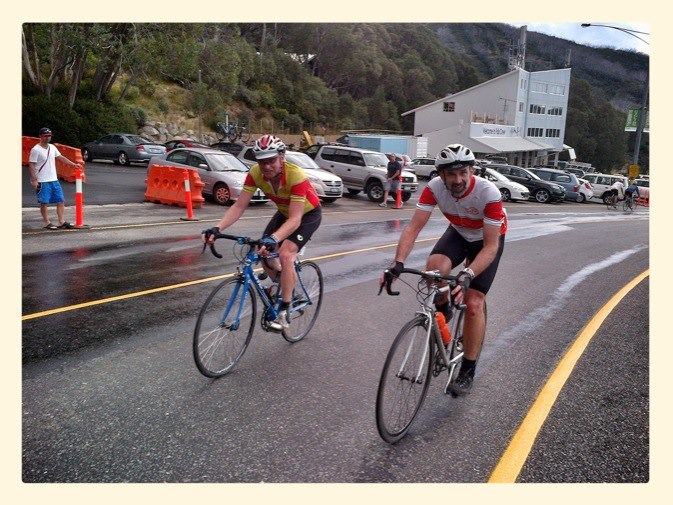 As it turns out, with B1/Michael, WBA and Laurie, my best time for a climb on the day was the final climb up Falls Creek!  B1 and I were even convinced by the ERs cheering us on at Falls, to finish with a 300m sprint!
7. Do you have any advice for the riders at the back of the ER peloton?
I just assume they are having an extended "sandbagging" strategy, and with a blink of an eye will be on the front.
8. Lastly, tell us something we don't know about you.
I answer to "Squid" whilst on the Coast.